About the Sanford Historical Society & Sanford Centennial Museum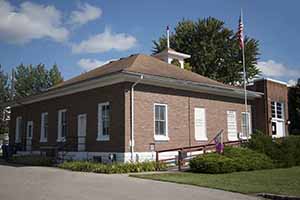 The Sanford Centennial Museum began with a school house that was built in 1910. It was added on to in 1939 by the Works Progress Administration (WPA). In 1970, the town of Sanford celebrated its centennial and, as part of the celebration, set up a historical exhibit in the empty schoolhouse.
It was so successful, the town decided to make it permanent. The Sanford Historical Society was created to manage the museum. They solicited and received financial support from local residents, the State of Michigan and generous individuals such as Carl and Esther Gerstacker.
The log cabin was the first building to be moved to this site. One by one, the Sanford Historical Society (SHS) has been in charge of moving and reconstructing eight local historic buildings in danger of being torn down.
The old schoolhouse is now the main museum building and a home to many antique collections ranging from vintage dining-ware to an authentic saloon.
---
Our Purpose

The major function of the Sanford History Society (Society) shall be to administer the business of the Society and provide for the ongoing upkeep of the Sanford Centennial Museum (Museum). The Society responsibilities include collecting, preserving and interpreting local history. This includes but is not limited to, artifacts, documents and buildings of local historical significance and educational tours.
Our Board
President - Mary Herkner
Vice President - Jan Biggs
Secretaries - Linda Fisher & Sue Muto
Treasurer - Kendra Melchi
Trustee - Ruth Ann Nagle
Trustee - Jeff Bowen
Trustee - Karen Ketover
Our Meetings

Regular meetings of the Society are held monthly from April through November on the third Wednesday of the month. Special meetings may be called by the President. We usually meet on the museum grounds in the railroad depot or the museum proper. Should that meeting place change (due to cold weather) our backup location for meetings is the Sanford Village Offices on Lincoln Street near the Senior Center.
---