Welcome
The Sanford Centennial Museum, Sanford, Michigan
---
The Sanford Centennial Museum houses an extensive local history collection. There are nine historic buildings, including two schools, a general store, log cabin, township hall, church, train depot and train, all authentically restored and furnished. Inside the buildings, collections include vintage tools, implements from the logging days, political memorabilia, a dentist's office, a saloon, toys, household goods, and much more. Come visit us!
We are located on the Tittabawassee River one mile off US Highway 10, near Sanford Lake and across from the Pere Marquette Rail Trail.
---
Events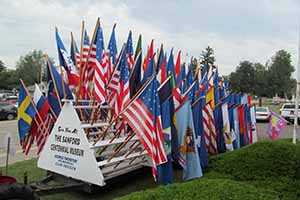 Please join the Sanford Historical Society as we celebrate the following events: Opening Day/Veterans Salute; Log Cabin Day; Model Trains Display; Founders Day; and Santa Express.
Become a Member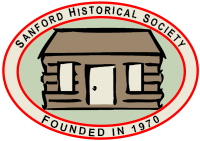 Become a member of the Sanford Historical Society! Benefits include a subscription to LOG MARKS, a newsletter which is published four times from April to November and participation in membership meetings.
Sanford Express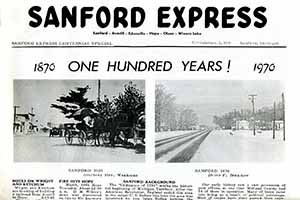 We have a substantial collection of the Sanford Express newspapers in our holdings spanning the years from 1969 through 2009. You may view and download a searchable list of this collection.
---
Explore Our Historic Buildings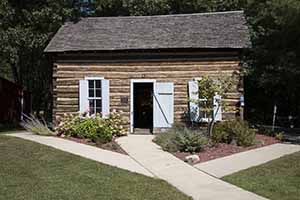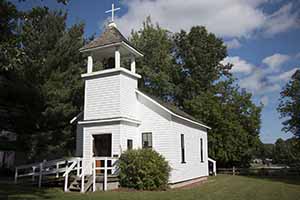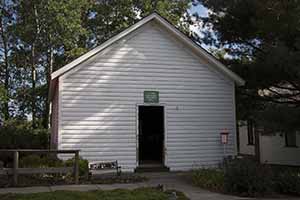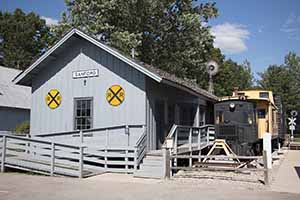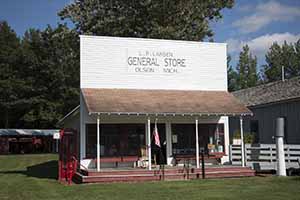 Six of the nine historic buildings on the museum's grounds were transported for restoration, preservation, and public viewing.
---
About Us

The Sanford Centennial Museum began with a school house that was built in 1910. It was added on to in 1939 by the WPA. In 1970, the town of Sanford celebrated its centennial and, as part of the celebration, set up a historical exhibit in the empty schoolhouse.
It was so successful, the town decided to make it permanent.
Visit Us
Open Memorial Day to Labor Day

Saturday: 10 a.m. - 5 p.m. EST
Sunday: 1 p.m. - 5 p.m. EST
Admission - Free
Open Anytime By Appointment
We Love to do Tours &
Weddings in the Chapel
Fundraising
1 Donor Tree: Pay tribute to someone special with a displayed commemorative pinecone.
2 Veterans Memorial: Remember your loved one who served in our Armed Forces with a permanent brick.
3 Fundraising Items For Purchase: Founder's Day T-shirts and more are available at the Museum.
---