The Story of the 'Big Wheel'
Silas Overpack, a wagon maker in Manistee, Michigan is credited with the invention of the 'Big Wheel' in 1875, but it was originally the idea of one of his farmer customers who needed a way to move logs when it was not possible to 'skid' them out in winter.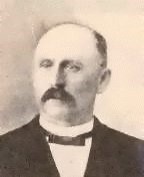 Overpack capitalized on the idea, eventually building three different sizes and even exhibiting them at the 1893 World's Columbian Exhibition in Chicago. They were used extensively in northern states, and were very popular in the West as well as Midwest. Logs were suspended from underneath the axle and the 'Big Wheel' could carry logs from 12' to 100'. The large metal-rimmed wheels were key to allowing logging to happen year-round as they would not get mired in mud as the ice roads melted.
In 2011 a group of talented SHS volunteers set about constructing a replica Big Wheel to be displayed on the museum's grounds. See their project in three parts below.